People care about office location. Conflicting priorities and the existential danger of commitment charge the question of office location with powerful emotions, emotions I've been both agonizing over and toying with since Season 1 Episode 1. San Francisco, the South Bay, and our Apptimize office have formed a multi-year long "will they or won't they" love triangle, a staple source of dramatic tension in the context of our startup growth- growth fueled by our industry revolution, a revolution set in the backdrop of our species' social and technological revolutions. Exciting! This month, our team committed to a move away from our original pairing.
To recap the past: we started Apptimize in Mountain View in 2013. Our first office was in a building on the Google campus rumored to be scheduled for tear down. Trust was so high and the weather so mild in the Google garden of Eden that the building was unlocked and nerds wandered in and out freely. Khan Academy was in our building (I snuck food from their office often (not often enough)), as was Clinkle. We did not pay rent but lived off the land in Jeremy's old company's suite even as another company moved in, surely eating of any fruit of any tree we chose. In our purity as a proto-person, we dared to ask the new tenants if we could continue to use their furniture and office space for free. And we dared to continue working there for weeks after their awkward silence hardened into awkward post-it notes tagging, "These office chairs came with our lease." Jeremy told me, "I think they're too scared to approach you but that one guy whispered to me that we should probably go."
Robot Invader's office was in the same office complex and they took us in and ultimately became our first users. We took money plants with us in the move because Jeremy assured me that the new tenants wouldn't have gotten those as part of the lease, and I loved free stuff and plants (although they died immediately because I don't love caring for them). I did our office move by myself one night, lugging Jeremy's monitor up and down various staircases by taking rest stops. Jeremy told me, "I appreciate you doing this but you should have asked for help because you cracked the monitor. A piece of it fell off and people who know me know my monitor is my baby." I was unapologetic, a recurring theme in the recurring chaos I caused in our recurring moves.
After we got into Y Combinator, we split time between my house and Robot Invader because some of our early developers lived with me for free for years. We had a 5 bedroom house 5 minutes from Google that was sometimes our office especially when we worked weekends for the first few years of Apptimize.
We also worked out of a fellow Y Combinator startup's offices in SF out of a compromise for our SF contingent- the dozen of us alternating days between South Bay and SF. I asked Y Combinator what they thought of this dynamic arrangement and Justin Kan told me, "When you're small you can do whatever you want," advice I overly liked and recalled.
After raising our seed, we moved into a 10K square feet office across the street from Facebook owned by one of our angel investors Massy and Sateez. They used to house 100+ people in this building and now it was for our team of 12, so we had lots of room to grow. An instance of startup karma, our users Robot Invader moved into our Menlo space, turning the tables from the days when we stayed with them at the old Google Building.
We slowly eventually tore down the cubicles after a few years. One executive recruiter told me a candidate called our office dark (following his linkedin since interviewing him, he's been a trainwreck- I maintain that cubicles are good), but we were already contemplating a redesign. Shauna helped us redo everything [photos]. I loved that this office was right across the marsh where we did walking meetings.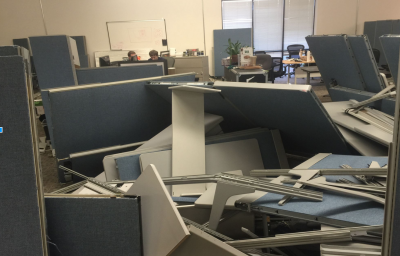 When I moved to SF personally, I assumed we'd move the company to SF soon. We'd been discussing it for months and the SF people, while a minority in the company, were annoyingly vocal complainers (is that any surprise to anyone?). I said we'd do it after the Series B because I needed to focus on our funding strategy first and the move could be tied to a celebration of not dying.
We raised our Series B during a hard fundraising time. 2016 started with the SaaS-pocalypse where public markets were getting pounded, Silicon Valley SaaS technology paragons like LinkedIn and Salesforce were dropping, startup founder darlings like Zenefits' CEO were getting ousted, reporters were unhelpfully speculating the venture "correction," and only the highest conviction VC's so confident in their records that they didn't read tech blogs were in the game. Our deck was coming together in January 2016 and my Series A investors kindly told me that it was not good. Undeterred and without Lynn to make our deck, I went out into the market and started taking meetings. For the first time, I envied bootstrapped startups. After decades of being straight edge and using clean language, I re-learned my middle school habit of swearing and gained 15 pounds in 1 month.
I'm not going to detail the drama of this time here. Despite the climate, we did well. The result was that this round was awesomely good to us. Within a few months, we raised >$15M with top investors such as Glynn Capital, Goldcrest, USVP, and Stanford Fund.
After we started getting term sheets, I turned back to the business and saw we had major stuff to focus on. I lost 15 pounds in 1 month because I had so much energy around all the work there was to do. When I said I was really happy during a meeting where it was clear everything needed work, Lisa said, "You're happy because and you're really busy." Yes! Good-busy, like making-progress-energizing-busy, not gain-15-pounds-stressing-over-cat-herding busy.
Everyone was doing multiple jobs. I'm proud and inspired by how our team stepped up, how much we accomplished and learned. I had my ordered list of priorities, promising Chris I was going to un-fuck X after first un-fucking Y. So our long suffering SF contingent who I had hardened my heart against (with the taunting refrain, "You knew what you were getting into when you joined"), got their hopes shelved into "I can't think about anything else especially a move until after this next milestone" purgatory.
Late last year, our team had a hard time hiring to scale. Here's the thing with running a company predicated on the idea of data, testing, and iteration: you feel guilty if you don't run experiments so people manipulate you into all kinds of things unless you're consistently clever at poking holes in their hypothesis logic and test design. "Maybe you guys suck at hiring," was my guess, but I entertained the idea of an SF experiment as a solution for accelerating hiring. Thus we opened up an SF satellite 6 months ago in Hiplead'soffice to test if this helped us hire salespeople. Adam said, "Wow, that was fast after you said you were going to do it," a recurring theme in our moves. I forbade the non-sales team from venturing there and had strict rules of engagement around when and where meetings and candidates had to be, rules which my insubordinate team irritated me by increasingly flouting as they settled into SF. Brazen requests for catered lunch and dinner in the SF office to match the Main Office basics were admonished, "This is a test and we're treating it as such so perks such as free food are not a priority." After a few months, it did appear that our hiring pipeline was much improved, so we started the search for an SF office.
I optimized on one thing: being close to Caltrain to minimize marginalization of the South Bay loyalists who were having the rug pulled from under them. I checked the place our broker Brandon found closest to Caltrain and said we'd take it. Thus we've now moved into the one place I looked at because it best satisfied my Caltrain criteria by being literally across the street.
Looking back at the history of our office locations, from Google campus, to alternating days between the Mission and Mountain View with weekends at my house with Gemma cooking for everyone, to Menlo Park, to split between Menlo and Mission, to now everyone together in SOMA, I see consistent themes in our moves.
I've learned people care a lot about office location. Uncertainty and flux over office location was endlessly distracting for the team. I was pissed off by how people harassed me for information, lobbied, speculated, and irresponsibly promised SF timelines to team members. Part of me wanted to stay in South Bay so as to not seem to reward SF politicking, but I also blamed myself for not being 100% clear. I always had a soft spot for watching out for South Bay interests because they are uncomplaining and selfless about doing what's best for the whole team, thus I optimized 100% for Caltrain and ignored Bart. I don't know what this teaches anyone about interacting with me other than that I make decisions fast by focusing on what I want to optimize and I worry about sticking up for people who don't stick up for themselves.
After the location factor, all our moves optimized for cost. Our gigantic space in Menlo Park was a great deal because our investors are generous and supportive. I learned a lesson from the various dead startups we got most of our fanciest furniture from: we did not want to live in an opulent palace as though we'd won when we were still in the midst of fighting a war.
The underlying theme is that we do what lets us increase velocity to hire the teammates we want to hire. Are you or someone you know a potential fit because I'd love to talk? Let me know your information! Also, our office warming is tonight. Come to 330 Townsend!